Hello!! I am Vaibhav, an Indian backpacker travelling round the globe to gain and write about the unique places and experiences this diverse world has to offer .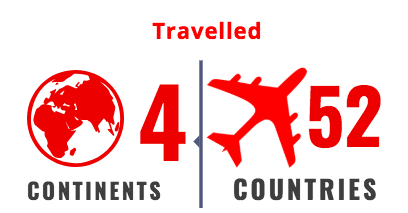 since last 2.5 years, leaving a comfortable 9 to 5 job to follow my passion which is travelling & started my blog mapmyescape.com.
About Blog Map My Escape
Map my escape is all about the passion called travelling, making people know about the places and live the experience through stories and recommendations, a backpackers way.
The blog has been curated by extensive travelling and gaining different experiences such as adventures, food, transportation, cultures, activities and accommodations that inspires and helps backpackers and travellers to maximise the use of time and available resources (particularly money) while travelling round the world.
Collaboration Opportunities
Map my escape offers a variety of services for marketing your brand including
Social Promotions
Sponsored posts
Product review
Giveaway
Guest blogging
Brand ambassador
Multi multibrand collaboration
Event hosting
Get in touch to know about my Souvenir Collection.