A week's time is very less to stay and take a perfect feel of this beautiful country, still a lot can be explored and experienced on a stipulated time frame of 7 days in Turkey. There are a lot of options for cities to be visited in Turkey, as each one has its own charm and flavour. The major ones are Istanbul, Cappadocia and Pamukkale. These 3 destinations combined would give you different experiences such as historic, natural, modern, nightlife etc.

Start the journey with Cappadocia (Goreme). This place is often called as Mars on Earth because of its unusual topography and beautiful landscapes.Relax, walk around Goreme and take a feel of its beauty on the first day of arrival. Savor the traditional clay pot meal in the evening, you will love the taste and the way its been served.
You can take a night walk around the cold breeze. Do book a cave hotel in advance as sometimes it gets very difficult to find one due to high tourist inflow.
The cave hotel surely would be an experience in itself. Also book the Hot Air Balloon Ride for the next morning. There are many companies offering the same, try to walk around and get the best possible price which ranges from 120USD to 150USD depending on the company and the density of tourists. The balloon ride typically starts at 5 A.M. in the morning so it's better to get to the bed early.
Next morning starts with the balloon ride, that will leave you amazed admiring the beauty of this place from the sky and there would be so many balloons at different heights that it would give you a feel as if somebody has painted this setting. You will have a 360' view and it would be wow from every angle you look. After the flight, there is a small Champagne party and you get the certificates on your way back to the hotel.
After coming back, you have an array of options to explore, you may go to the explore the topography, being referred as the red tour and green tour or I would suggest you to hire a Quad Bike and go to explore the underground city of Kaymakli which is an approximate one hour ride from Goreme, enjoy the journey and beautiful scenes, small villages, potato fields etc. while your way back visit Goreme Open Air Museum, a very enriching experience of the history and early settlements.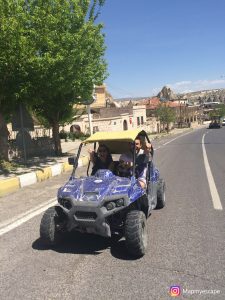 In the evening, enjoy the cultural show with dinner at the cave hotel. Stargazing at night is also a very good option as the Sky is very clear (depending on the time you visit).
You can either take a bus to Pamukkale which is an overnight journey or stay a day more in Cappadocia.Pamukkale is one of the most astonishingly beautiful natural places I've been to. It's a UNESCO World Heritage Site. Travertine Terraces.
Come travel, www.detoqueytoque.com