While travelling, It sometimes become tough to find vegetarian food. Being a pure vegetarian I also was skeptical while making plans to go to Turkey, which is world famous for its Kebabs and a lot of other non-vegetarian dishes, but trust me, Turkey has a lot to offer for vegetarians too. Here I am sharing a few vegetarian Turkish delicacies which would be a delight to your taste buds.
Çiğ Köfte
'Raw Meat', is the translation….Don't worry you still are reading about Vegetarian food in Turkey. This dish traditionally is Raw Meat Balls but the vegetarian version is more popular. It's made with Bulgur, tomato paste, onion and a lot of turkish spices and herbs.
This incredibly simple delicacy is rich in taste and also very filling, turkish people savour it as a starter or an appetizer but for many it acts as a main dish too. You can ask for the dish to be less spicy or more, but it definitely would be a little bit spicy so prepare your tastebuds accordingly. This is not to be missed. A very economical and easily available option for vegetarians.
GOZLEME
This cheese and spinach filled dough pancake is also a very good and filling option for the vegetarians. This is being served with different accompaniments like Cacik (Vegetable Yogurt),spicy Ezme ( tomato & chilli dip), Muhammara (walnut & pepper paste) and Barbequed Onions dipped in sweet syrup. If you have this, you will not ask for anything more as it's great in taste and very filling.
KUMPIR
For the love of Potatoes. This Turkish delicacy is basically Jacket Potato filled with vegetables, onions and sweet corn, topped up with herbs, spices cheese and mayonnaise. Very delicious and easy to get, favourite lunchtime snack of Turks. This on the go snack is a very good option for vegetarians.
CORBA
Means Soup in Turkish. Turkish people consider it as a staple for everyday meal. A very healthy and filling thick textured option it is for the vegetarians. Comes in varied options both Vegetarian and Non Vegetarian. Vegetarian options mainly includes Mercimek Corba (Lentil Soup), Domates Corba (tomato Soup) or a mix of Lentils and Tomato soup. The best choice is Lentil soup, it's very delicious.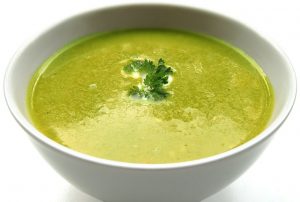 Sigara Böreği
These are the Cigar shaped cheese filled snack being fried and served with salad and a variety of dips ranging from vegetable yogurt to the spicy tomato. These also act as very good tummy fillers and are great in taste. Easy on both stomach and pocket. Easily available at almost every food joint in the touristic cities of Turkey.
Clay Pot Meal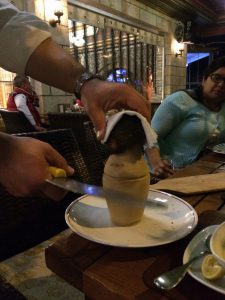 This is a must try if you go to Turkey. Typically available in Cappadocia and the nearby cities. This is basically meat based meal but is prepared in a vegetarian version too. The vegetable curry made with mild spices is being filled in a bottle shaped clay pot, sealed with clay above and being cooked slowly in earthen ovens in order to retain the quality and taste of the vegetables used. The curry is being served with rice and is very good in taste. It takes a little time to cook but the wait is truly worth and also the way they break the clay pot in front of you with a hammer is all the more interesting.
Not just Spicy food, Turkey has a lot to offer for the sweet lovers too.