Craziness is the word that can best describe this adventure activity where you tie your legs with a rope and jump fall free from a good height conquering your fears. Many people don't know but Nepal has one of the highest Bungee jumping around the world.
I was very skeptical while doing this, in fact I wanted to experience it when I visited Victoria Falls in Zimbabwe and that was way before I visited Nepal but wasn't able to make my mind whether to do it or not. This time when I was in Nepal, I finally decided to give it a try but I kept this activity for the last day of my trip (for obvious reasons, avoiding death till the end hahaha).
Came the day on which I could not turn back, there were many many thoughts running in my mind during that briefing on how to jump, the best thing that the instructor told was 'its very easy, we will say 1 2 3 jump and you have to jump, that's it', but was not as easy as it seemed. I was the 5th one to go, saw 4 people jumping before me, screaming on top of their voice and I was standing there imagining myself jumping.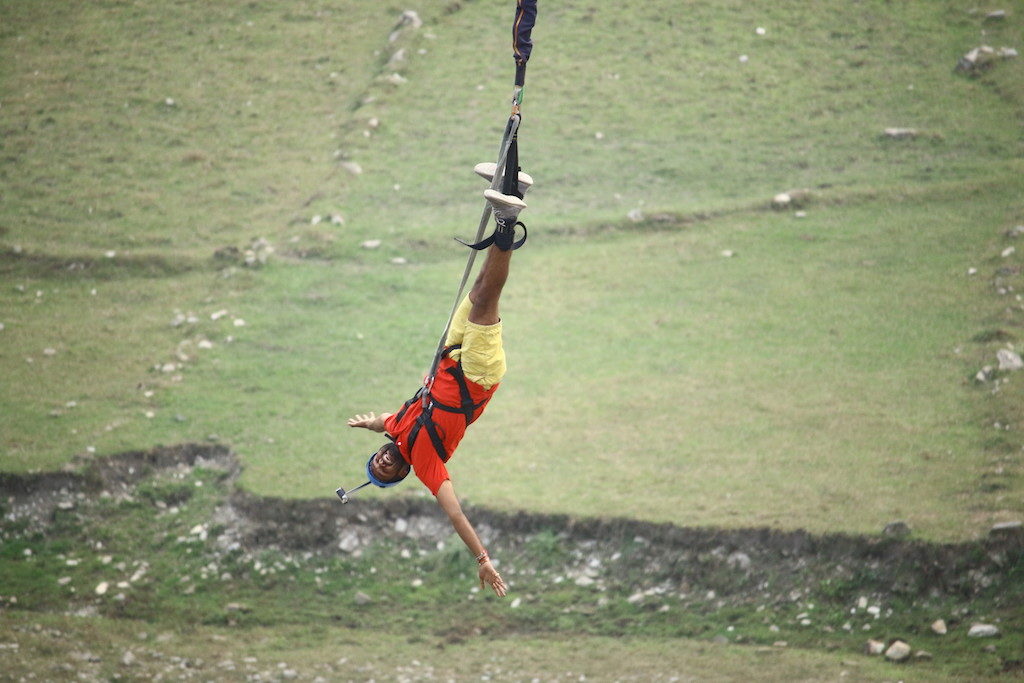 Here was my turn, the trainer asked are you scared?, I answered Yes, Do you trust me? I said No.. you have to trust me and jump..ok ok..'don't look down and on the count of 3, just jump'..3 2 1 jump, and there I was jumping upside down, tied on a rope, realising the warmth of blood flowing throughout my body, screaming on the top of my voice, blinking eyes and a lot of emotions running inside with that rope stretching up and down.

Finally came back on the ground, it took me 5 minutes to realise what I just did and how moving it was, how important it was for me to conquer this fear of jumping, and what an immense adrenalin this activity has given me. I would really recommend bungee, if you want to conquer your fear. Don't look down, just 3 2 1 jump…